FALLING WORLD




Title: 落ちる世界 [Falling World]
Circle: ツワノギ
Language: Jap -> Eng
Characters: Mukuro x Chrome/Nagi
Warning(s): N/A
Summary: "Isn't it wonderful that the one who torments me is you and the one who torments you is me?"

DOWNLOAD @ MY LJ

This doujinshi was scanlated by halkuonmusoka.
Please do not redistribute without my consent.
Comments are ♥

/no idea if I'm supposed to lock this or not - someone let me know? D:
Current Mood:

accomplished
The post also includes:
-Katekyo Hitman Reborn!
-Pandora Hearts
-07-ghosts
-Natsume Yuujinchou
Teasers:
Happy 2012 everyone! Here's a a graphic post to celebrate the new year, hope you enjoy!XD

➠ [40] Fashion

➠ [65] Katekyo Hitman Reborn!
Current Mood:

ditzy

Current Music:

ApolxHaru - Like, Dislike
Title:
Superficial Dreams.
Author:
aimeeshii
Characters/Couple:
Rokudo Mukuro/Dokuro Chrome, Hibari Kyouya/Dokuro Chrome.
Rating:
PG-13
Summary:
When one runs out of tricks to play, a whole new level of mischief has to be created.
(
"Why else would I be this close to you?" he murmured. "I know this place, after all, I'm the creator of it."
)
Current Mood:

apathetic

Current Music:

Valshe - Soundless Voice
Theme: Devotion
Rating: PG-13/T
Pairing: Mukuro/Chrome –kind of-
For: Allimassy
Summary: A partnership which goes through stages. Slight Shimon arc spoilers.
Lurker with a fic-link. Oh the horror
Title: Martyr Without A Cause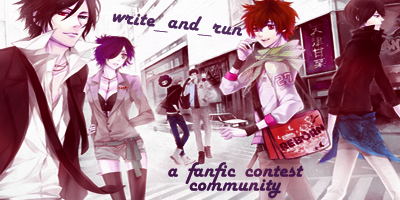 Looking for a fanfic contest, but can't find one that focuses on KHR? Well then, we're happy to say there is a new community just for that! The recently created community,
write_and_run
, is now open and you can find our third prompt
here
.
Check it out to see if it's something that interests you enough to participate. Or perhaps you enjoy reading more? There will be plenty of great fics to read, so join up - or put us on watch! There's nothing wrong with a bit of community stalking (as long as you remember to read
and
review!)
As you may or may not know, we have just closed author sign-ups at the KHR guess-the-author challenge,
khr_undercover
, but we need people with a good grasp of the English language to act as betas for our authors. If you would like to pinch in, please sign-up at
this post
. Comments are screened.
Also, I have started a
drabble game
in our sister comm
hitman_hangout
. Everyone's welcome to play, so please hop on over to that post!
Hello all,
Hello all! As Reborn says above, it's time! For what? Well, for another round of
khr_undercover
, the guess-the-author KHR exchange! This round's optional theme is "Guardians" (the Tenth's guardians, the guardians of the previous generations of Vongola, guardians from other canon families - all are welcome here!), though you may write about a different topic if you wish.
Sign-ups are now open - please go
here
to sign up! :)
my journal
for buying info. Thank you!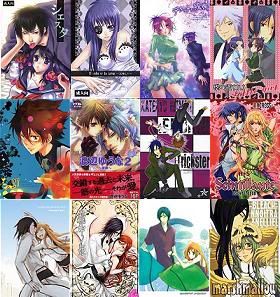 x-posted
Hello everyone, I'm selling 4 Mukuro x Chrome doujinshi on my journal if anyone is interested~ Please visit